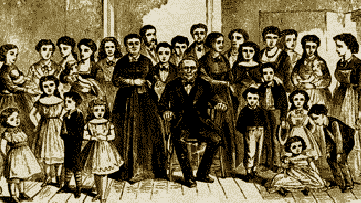 Are Women Happy in Polygamy?
By Mrs. A. G. Paddock

Mrs. H came to Utah a devout Mormon. When her husband decided to take another wife, she accompanied him to the Endowment House, as the cruel law of "celestial marriage" commands, but when Brigham Young asked the prescribed question:
"Do you give this woman to your husband, even as Sarah gave Hagar to Abraham?" she answered:
"Yes and No."
"What do you mean by such an answer?" the Prophet demanded.
"I mean yes, if he cannot go into the presence of his God without this sacrifice on my part; but if I consult my own heart, No, NO! a thousand times NO!"
She says, "On my way home from the Endowment House that day, I fainted three times; yet, so determined was I to do my whole duty, that I welcomed the new bride to my house, as a sister but, oh! the martyrdom of the weeks that followed.
At last, when on the verge of madness and suicide, I thought "I will know whether the fault is in the system, or in my own rebellious heart; I will go to those who are wiser and better than I, and learn whether they have become reconciled to such a life. Accordingly, I paid a visit to two of the Prophet's plural wives, to whom we were always taught to apply for counsel."
One of them said : "I have shed tears enough since I have been in polygamy to drown myself in twice over." The other said : "The plains, from the Missouri to this valley, are strewed with the bones of those whom this system has killed, and the cemetery on the hill is full of them, but every one of these women is now wearing a martyr's crown."
Miserable comforters, truly. But I thought I would make one more trial. I went to Brother C 's. This was called a model polygamous family. The two wives were said to live together like the most affectionate sisters. I called on the first wife; told her how I felt, and asked : "Sister C , is the fault in our religion, or in my own wicked heart? Are you happy in polygamy?"
She replied: "I have never seen a happy day or hour since my husband's second marriage ; I have never laid down on my bed at night without drenching my pillow with tears."
"But perhaps the second wife feels differently," I said.
"You can ask her. She is in the next room."
I did so, and this was her reply: "For the sake of peace, I have given up everything. I have no longer a single right, either as woman or wife. If it had not been for my child, I
would have ended my troubles by throwing myself into the river long before this."
"No comfort or help here," but deliverance was near, though I knew it not. I used to go down into my cellar to pray, and there, with my burning forehead pressed against the cold stones, I would plead that my rebellious will might be subdued; but the more I prayed the worse I felt; the more it seemed that if God had laid such an intolerable burden on women, he must be a cruel tyrant instead of a kind Father. At last, one day when I was praying, these words came to me, as distinctly as though a human voice had spoken them in my ear:
"My child, it is man, not God, who has laid this cruel burden upon you."
From that moment I was free. I no longer prayed to be reconciled to polygamy, but fought against it with all the strength of my soul."
This is only one of hundreds of such experiences with this hope-blighting, soul-crushing and heart-breaking doctrine and practice: Polygamy!
---
IF YOU'VE BEEN UNABLE TO LIVE THE LIFE OF POLYGAMY WITH FULNESS OF JOY, AND YOU WANT TO BE FREE,

CONTACT TOLL FREE:
1-877-425-9993

...or perhaps someone you know may need
this information..
THERE REALLY IS LIFE AFTER POLYGAMY!