Dear Friends,

Doris Hanson, Director,
A Shield and Refuge Ministry
Daniel 8:12 tells us that "truth will be thrown to the ground" (NIV).
A Shield and Refuge Ministry's primary goal is to bring Biblical truths to polygamists. As we continue toward that goal we face the challenges of disbelief in God's word, and even mockery of it.
We're not surprised at that because the devil's first lie was to challenge the believability of God's Word, and Jesus said that the devil is a liar with no truth in him. Daniel's prophecy that truth will be trampled upon is taking place and so is Paul the Apostle's warning that evil men and imposters will wax worse and worse.
This is the condition of today's world. Truth-speaking is called "hate" speech and the "tolerant" ones are intolerant of those who disagree with them.
We work to help the very people who are against what we are doing. People who leave polygamy are understandably hesitant to adopt or embrace another religious system. They've been burned so badly with lies about God and the Bible that they tend to throw it ALL away. Or, unbelievably, they will be absorbed in the contemporary Mormon church.
But, we want the people we touch to know that God is not the cruel condemning 'god' of polygamy. We want them to know and experience God Almighty. That He is good, gracious, patient, loving, awesome, not an exalted man, not a polygamist and not standing at the ready to zap every mis-deed with a crushing blow.
We need prayers from God's people that He will open every door, so those in polygamy will know that heaven is a gift, not of works, but because God's grace is granted to all who will trust Him, that Jesus ALONE is the Savior. That polygamy is not required, EVER.
---
I just left the LDS faith after being a member for 43 years. I'm hoping that with this book I can help my husband see that polygamy is not called of God like he believes. Thank you Doris for your show and everything you've done to help open my eyes to a religion based on dishonesty and betrayal!
*****************
Dear Doris,
I've wanted to write for several years now. My husband and three children left Mormonism in 2006 and are born again Christians. I love your shows, I feel that a lot of Mormon marriages are influenced by the polygamy belief, such as believing we are supposed to marry a certain person who God has planned for us. After three months we were engaged and in nine months married in the temple. once we were engaged we began to have arguments but always dismissed them saying we were meant to be together and all would work out. We have been together for 27 years now and I never have and still don't love him, and through the years I've always asked God why he is the one for me! When I left the church a big weight was lifted, I realized that I didn't have to feel guilty about not having the right feelings about our marriage. So much of our marriage was influenced by the church so that is what has kept me going as well as raising the kids. They are adults now but I am really struggling with being around my husband. NL
---
Several former members of the FLDS polygamy group are suing Warren Jeffs AND his law firm that defended him until his 2011 conviction for the sexual assault of two girls. They are alleging that the lawyers helped Jeffs establish and present the appearance of legality in order to continue with marriages of underage girls, and child labor practices. Outside council said the lawsuit has no merit and will file a motion to dismiss.
~~~~~
Lyle Jeffs, brother of Warren Jeffs and acting leader of the FLDS, was arrested and jailed for his part in the multi-million dollar food stamp fraud charges against 11 members of the group. His court appointed attorney petitioned the judge to release Jeffs from jail noting the length of time it would take to bring the case to trial. Against all advice from those who know the polygamist belief that they are above the law, the judge freed Lyle Jeffs confining him to a home on an ankle bracelet. Well, Jeffs escaped! Of course he did! He used a lubricant, perhaps olive oil, to remove his electronic ankle bracelet without detection. Now he's gone. No one knows where he might be. The FBI are on the hunt for him. We wonder when the legal and political communities that incubate these polygamy groups will ever get wise enough to prevent the polygamists from out-witting them as they continue to do. We aren't holding our breath.
~~~~~
Escaping Polygamy returns for its 2nd season. Produced for LMN by RIVR Media and airing on A&E Network, it presents the efforts of three sisters who themselves escaped from the Kingston polygamy group as they now help others escape. The Kingston group enforces a lifestyle of polygamy, abuse, and deprivation. This show presents the REAL reality of polygamy, in opposition to the seemingly pleasant lifestyle that other programs present. We highly recommend watching this weekly show.
---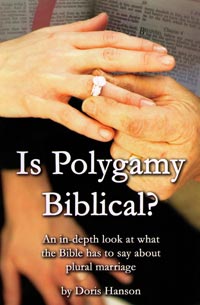 Both King David and King Solomon disobeyed this directive of God. Yet these two kings are often used by proponents of polygamy as "proof" that God approved of the practice. Nothing could be further from the truth. God does not say something is wrong and then later contradict Himself by saying that wrong is right after all. Nor do God's standards change. He did not approve of David's polygamy any more than He approved of the other sins of David that are mentioned in the Bible.
David was a king and military leader. He practiced what the leaders and kings of the earth did in those days - collected harems. However, he and his family paid dearly for his lifestyle of sexual immorality. Families often suffer because of the sins of the parents. If a parent follows a foolish path of behavior, the children will likely follow closely in their footsteps. David's sexual escapades and appetite were observed and practiced by his sons. His son, Amnon, raped his sister. Another son, Absalom, killed Amnon in revenge. Then he later tried to take the kingship from David and ended up raping his father's concubines on the palace roof in view of all the people (2 Samuel 13 & 16).
A careful study of the life of David will show any honest reader that David did not have a happy or emotionally healthy family.
1. David sinned every time he took an additional wife - Deut 17:17.
2. David sinned when he committed adultery with Bathsheba .
3. David sinned when he ordered Bathsheba's husband, Uriah, to be killed in battle.
4. David sinned when he took Bathsheba as one more wife.
In spite of all these sins, God loved David. Just as in spite of all OUR sins, God still loves us!
We cannot conclude that God approves of polygamy just because He didn't immediately punish David and others for their polygamous lifestyle. Often the natural consequences of our sin are what God uses to discipline and correct us. We must remember that God's patience toward us gives us time and opportunity to repent of our sin and avoid perishing.
Titus 3:4-6 tells us that God is full of kindness, love and mercy toward us. He wants everyone to repent and come to the knowledge of the truth, waiting patiently for each of us to respond to His love through repentance.
(continued next month)
---
Mrs. [Sarah Pratt].: "You hear often that Joseph had no polygamous offspring. The reason of this is very simple. Abortion was practiced on a large scale in Nauvoo. Dr. John C. Bennett, the evil genius of Joseph, brought this abomination into a scientific system. He showed to my husband and me the instruments with which he used to * operate for Joseph. ' There was a house in Nauvoo, 'right across the flat,' about a mile and a-half from the town, a kind of hospital. They sent the women there,.... Abortion was practiced regularly in this house."
Mrs. H.: "Many little bodies of new-born children floated down the Mississippi..."
"Joseph Smith, the son of the prophet, and president of the re-organized Mormon church, paid me a visit, and I had a long talk with him. ..He answered: 'If my father had so many connections with women, where is the progeny?' I said to him: 'Your father had mostly intercourse with married women, and as to single ones, Dr. Bennett was always on hand, when anything happened...'
Bennett wanted me to return to him a book I had borrowed from him. It was a so-called doctor-book. ...While giving Bennett his book, I observed that he held something in the left sleeve of his coat. Bennett smiled and said: 'Oh, a little job for Joseph; one of his women is in trouble.' Saying this. he took the thing out of his left sleeve. It was a pretty long instrument of a kind I had never seen before. It seemed to be of steel and was crooked at one end. I heard afterwards that the operation had been performed; that the woman was very sick, and that Joseph was very much afraid that she might die, but she recovered. (Mormon Portraits I, von Wymetal, Wilhelm, SLC: Tribune Printing & Pub., 1886, page 59-62).
http://entreated.blogspot.com/2008/07/allegations-abt-joseph-smith.html
On the seventeenth day of may, 1842, ...testified that John C. Bennett endeavored to seduce [females]...by saying it was right; that it was one of the mysteries of God, ... -- that it was perfectly right to have illicit intercourse with females, providing no one knew it but themselves,...that [there] was such revelations and such commandments, and that it was of God; also stating that he would be responsible for their sins, if their was any; and that he would give them medicine to produce abortions, providing they should become pregnant. One of these witnesses, a married woman that he attended upon in his professional capacity, whilst she was sick,...
(THE WASP. --- EXTRA. Nauvoo, Illinois, Wednesday, July 27, 1842.)
---
The building that we had our eyes on for a 'safehouse' has been sold to someone else. We were then ready to bid on another property, but the initial bid was higher than we were willing to pay without first being able to tour the house. So we continue to seek God's guidance to find the place he has already chosen for our project.
We are confident that God is in full control of this process, and we have asked him to open and close necessary doors and lead us in His perfect timing.
We continue to pray asking him "When and where?" we know that He will provide according to his wisdom and grace.
Please continue to pray with us for the safehouse of our Home for Hagar vision.